Last night saw the third edition of our annual Poetry and Performance Showcase evening.
The evening features around 40 children from Years 3 and up performing poems and and a further group of children showing their musical or dance skills.  The school Jazz Band also entertains during the interval.
Yesterday's event was superbly attended by parents and staff, and the audience was full of anticipation as Maxim from Year Three had the daunting task of opening the show.  His performance was flawless, as were the huge range of other acts laid out in front of the audience.
The three judges (Mr Hirst, Mrs Fox and Mrs Tyldesley) sat at the back with the unenviable task of identifying a winner.
After a storming end sequence featuring Amelie and Toby, the judges emerged with their decision – joint winners!
Congratulations indeed to Erin and Toby for 'Little Red Riding Hood and the Wolf' and 'Dubai' respectively.
Thanks to all who took part, organised and attended.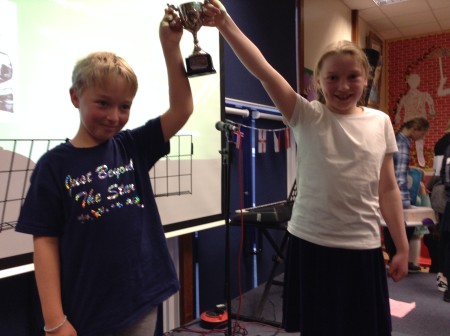 General