On Your Bike – our 6, 12 or 20 miles family cycle ride, on quiet lanes, through beautiful countryside, on Sunday 2nd April – was launched in assembly this morning.
Matt Richardson, a Henley cyclist, inspired children to sign up for this year's On Your Bike with stories of pedalling his 1975 Raleigh Chopper bike up mountains, often overtaking cyclists who were much better equipped. Matt also set a World Hour Record on his vintage chopper and his escapades have helped raise thousands of pounds to fight blood cancer.
"Cycling gives you a sense of freedom," Henley cyclist, Matt Richardson, told children in assembly today. "You can't beat the feeling of going fast in the open air, particularly on the flat or down hills. It's like flying".
"If you're worried about the distance," Matt told the children, "don't ride too fast at the beginning. Don't worry about how fast everyone else is going. The ride is about what you yourself can achieve."
Claire Burnett, a senior staff nurse in the Emergency Dept at the Royal Berkshire Hospital, is a former pupil at the school and told everyone she'd cycled On Your Bike with her family at least 8 times. She urged the children to wear helmets.
Register before 9pm on Sunday March 26th for the chance to WIN A BIKE kindly donated by AW Cycles. Entry fee: £5 per person in advance or £8 on the day. Register for this year's ride online at OYB registration
100% of all entry fees and monies raised in 2017 will be shared between SCPS, Sue Ryder and the Emergency Department at the Royal Berks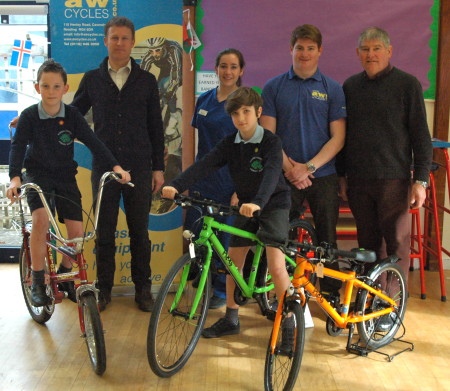 Photo: Joe H, Matt Richarson, Claire
Burnett, Sam A, Rob & Geoff
Bowen from AW Cycles.
General